ACC (Alloy Care Centre) – The Birth!
A good friend of mine, Simon Palmer, with 30 years experience in the motor trade, called me in the spring of 2011 as he was aware that I had contacts in the commercial property world and he was after some premises to set up a new business. Naturally I was curious about this new venture so I asked him what it was all about.
Having been a "pen pusher" for the past 23 years working in the world of financial services I had to confess that I did not know you could actually refurbish wheels! For a chap who usually keeps conversations brief I could tell Simon was clearly very enthusiastic about this new business. Not only was the phone call long but he sounded very upbeat (not like him at all!).
I put the phone down and picked up my pen, looked at the paperwork all over my desk and thought, as usual, what have I actually achieved today. My mind quickly returned to the conversation I had had with Simon, now there was a job where at the end of the day you could really see what you had achieved.
A few days later I called Simon with the names and numbers of some commercial property agents. I said "this wheel refurbishment business, you don't need a business partner do you?" and the rest as they say is history.
After much research, visits to various businesses and considerable thought we opted to go down the powder coating route. More expensive to set up for sure but we really wanted to achieve the best possible finish that was robust and as such long lasting. We also wanted to give a guarantee with our work. Our ethos is built on customer service and the quality of our work.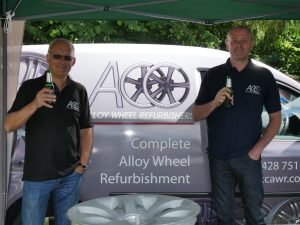 Here we are, Simon is on the right and I am on the left at last years Classic Car show, held at the Deers Hut pub Liphook, always thirsty work!
Thanks for taking a look at our blog, more posts to follow!
Steve Martin –  Partner ACC Wheels
To chat about having your wheels refurbished, give us a call on 01428 751899.